How to Merge PDFs on Mac with Movavi PDF Editor
Choose Movavi PDF Editor as a safe alternative to when you want merge PDFs on Mac online. Our PDF compiler allows you to concatenate or export pages from existing PDFs with no risk of hacking, unauthorized copying, viewing, use, or distribution of your files.
Get Movavi PDF Editor for Mac OS X and choose from these options to combine PDF files.
How to Combine PDF Files on Mac Using the Merge Files Feature
Download the Program to Join PDF Files on Mac
After downloading the distribution file, launch it and follow the on-screen instructions to complete the installation.
Add Files
Launch the program and click Merge Files on the right of the screen. In the window that opens, click Select Files and upload the PDF files you want to process. Alternatively, you can just drag and drop them into the workspace.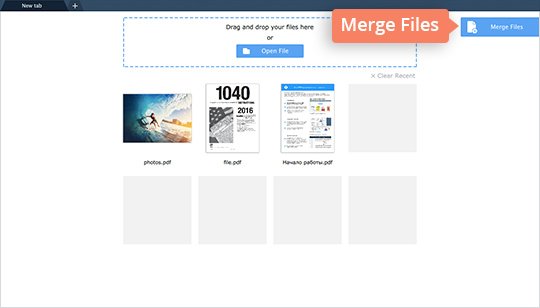 Combine Multiple PDFs into One Document on Mac
When all the files have been added to the PDF Editor window, arrange them in the appropriate order by dragging and dropping each file into place. Click Merge to merge two or more PDF files.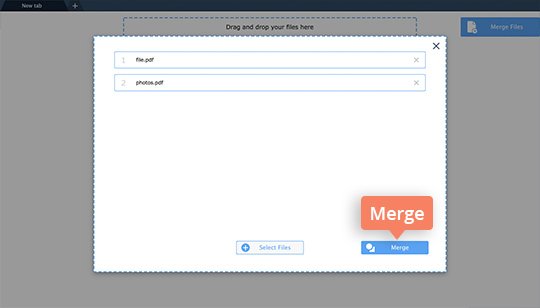 Make Edits and Submit Them with One Click
Your new file opens in a new tab as a compilation of all the pages from the merged files. The files will be placed one after another, and the page order in multipage documents will be preserved. You can change the order using drag-and-drop if you need to – for example, insert scans or images from one file into another one (see below for more on this topic). If you need to add blank pages after the title page, use the Blank Page option in the menu on the right. To save the new PDF file, click File on the menu bar and select Save As.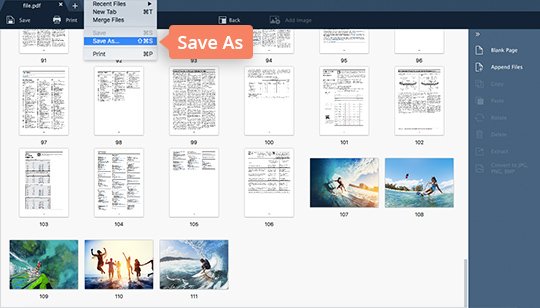 How to Merge Many PDF Files with Images Using the Append Files Feature
It's often useful to add photos and other kinds of images to your PDF documents to make the document more informative and easy-to-read. Movavi PDF Editor automatically converts JPG and PNG images into PDFs. To place images in the PDF document, use the Edit Objects mode and the Add Image button. To add an image as a separate page, go to the Pages mode and click Append Files in the right-hand menu.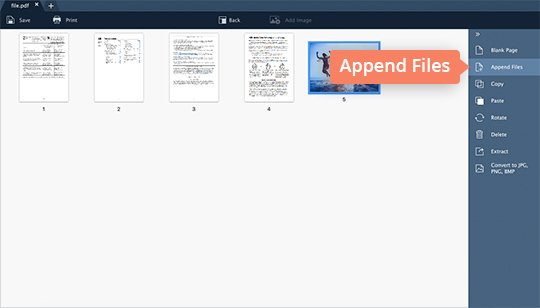 How to Use Document Pages to Combine into a PDF on Mac
If you need to collect individual pages from different PDF documents into a single document, open two or more files in different tabs and delete the unwanted pages from the first file. Then, copy pages from other files and insert them into the first file by dragging and dropping them or using the Copy and Paste commands in the Pages mode menu.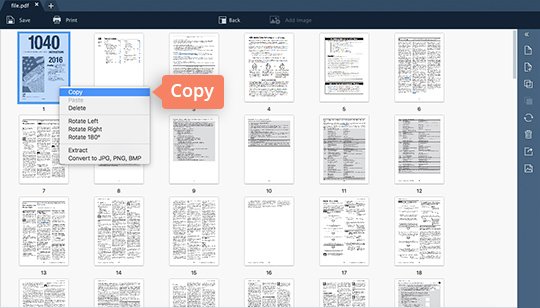 Our PDF binder for Mac also enables you to edit created files (delete unneeded pages, move or rotate individual pages, etc.) and save them after editing.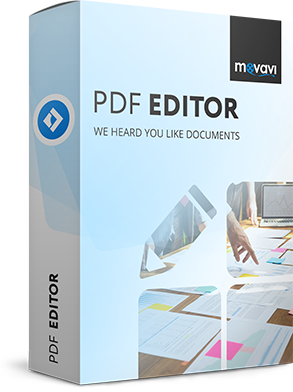 Movavi PDF Editor
Just what you need to manipulate PDF files!
Merge and split PDF files

Add, rearrange, and remove individual pages

View multiple PDFs and images

Convert images into PDFs

Extract single pages from PDF documents
Disclaimer: Please be aware that Movavi Screen Recorder does not allow capture of copy-protected video and audio streams.