How to Merge PDF Files
The utility of PDF files is incredible, but they can be difficult to manipulate. Many people turn to websites that offer to edit and merge PDF online. But this is not safe, as your documents could be stolen, infected with viruses or even corrupted. Unfortunately, regular PDF readers rarely include functionality much beyond simple document viewing. And what can you do if you want to join several PDF docs into one or combine individual pages from different documents? In this case, the best way is to find a more sophisticated piece of software for Windows – like Movavi PDF Editor. It is a simple and powerful tool for managing, editing, and merging PDF documents.
There are a few ways you can merge your PDF documents with Movavi PDF Editor. Read on, and you will learn:
How to Merge PDF Files into One Document
Install Movavi PDF Editor
Download our PDF Editor, launch the installation file and follow the instructions on the screen.
Add the PDF Files You Want to Merge Together
Run the program and click the Merge Files button. In the window that opens, click Select Files and find the individual PDF files you want to merge. You can also drag the files into the app's working area.
Join the PDF Files
You can rearrange the files you've added by dragging them into the desired order. To create a single PDF from those multiple documents, click Merge. The new document will open in another tab so you can do more editing if you wish.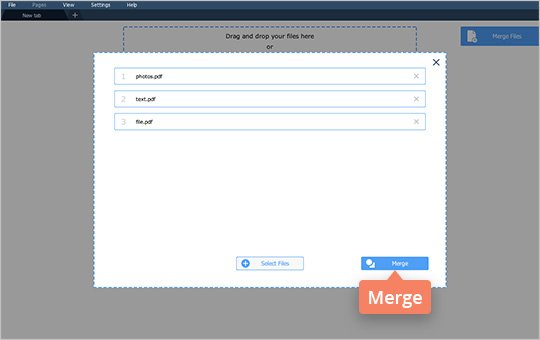 Edit and Save Your File as a Single PDF Document
In the preview tab, you will see the merged file with all the pages from the files you added. The pages will appear in the order the documents were placed earlier. Any pages can be moved, copied, rotated or deleted. If you need to add some extra blank space between your pages, use the Blank Page button on the right panel.
Save the new large PDF file, choosing File in the menu, and then Save As.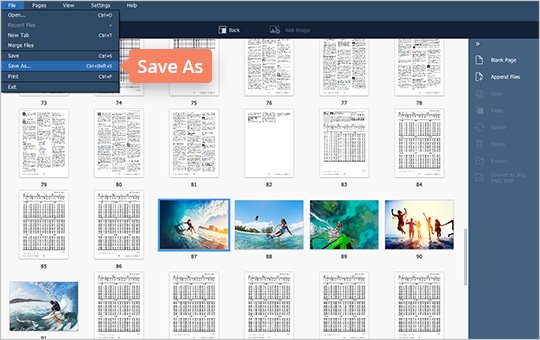 How to Combine PDF Files in the Pages Mode
There's another way to combine two PDFs in the Movavi PDF joiner. Open one file in the program and click the Pages button in the top panel. There, you will see the layout of your document. Click Append Files in the right panel and choose the files you want to add. Then refer to step 4 above to combine your PDF files into one.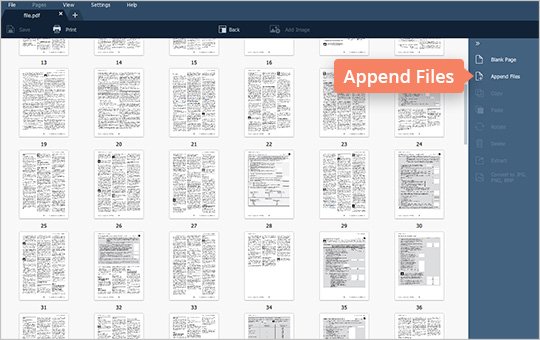 How to Combine PDF Pages From Different Documents
Another way to create a PDF file from multiple sources is to copy pages from one document to another. To do this, open all the source documents in separate tabs. Make sure that you press the Pages button on each tab. Then, holding down the Ctrl key, select one or more pages in one document, copy them with Ctrl+C, open the tab containing the target document, and paste the pages with Ctrl+V. You can then manually arrange the order of the pages in the final document. To save the result, refer to step 4 above.
Now you know how easy it is to merge two PDFs or more into one! Movavi PDF Editor is faster and safer than any online PDF merger!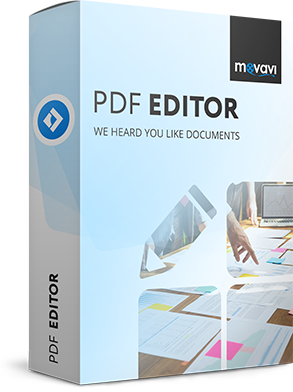 Movavi PDF Editor
Just what you need to manipulate PDF files!
Merge and split PDF files

Add, rearrange, and remove individual pages

View multiple PDFs and images

Convert images into PDFs

Extract single pages from PDF documents
Disclaimer: Please be aware that Movavi Screen Recorder does not allow capture of copy-protected video and audio streams.